Located in the heart of the Willamette Valley, Hee Hee Illahee RV Resort opened in 2006 and is a top rated Preferred Good Sam park. Guests enjoy Good Sam Preferred Park amenities and dozens of City of Salem area attractions for a comfortable stay. Enjoy 114 paved widened pull-through sites with patio, and 25 paved back-in widened sites with patio. Rallies always welcome. Wagonmasters please contact us for latest rates and amenities.
TLC Holdings, LLC is seeking an Office Clerk for Hee Hee Illahee RV Resort. The Office Clerk does not have to live onsite.
Please download Office Clerk Job Description for more information.
How to Read Good Sam Directory Ratings
The three-number rating that accompanies each campground listing in the directory gives readers an at-a-glance assessment of a campground's amenities, cleanliness and environment.
How to read the Good Sam Rating 10/10* /10.
All three ratings categories are measured on a scale of 1 to 10, with 10 being the best. Less than 1 percent of parks or campgrounds receive the coveted 10 / 10 / 10 rating, which indicates superior facilities that are well maintained, clean, well-appointed restrooms and a highly appealing appearance. Campgrounds are inspected annually by dedicated RVers like you.
Completeness of facilities
10 / 10* / 10
The first campground rating evaluates completeness and quality of facilities. In this category we rate interior roads, sites, registration area, hookups, recreation, swimming, security, laundry, store and building maintenance.
Cleanliness and physical characteristics of restrooms and showers
10 / 10* / 10
The second rating category concerns the cleanliness and physical characteristics of toilets, walls, showers, sinks/counters/mirrors and floor. If a park achieves a full point in each of the above, it receives a star (), indicating exceptionally clean restrooms.
Also rated are physical characteristics of restrooms, including interior construction, adequate supplies/odor free, adequate number of facilities, exterior appearance and location in relation to park spaces, and interior appearance.
Visual Appeal and Environmental Quality
10 / 10 */ 10
This category addresses the park's setting and site layout, function and identification of signage, overall exterior building maintenance, noise, trash disposal, litter and debris around the grounds and sites, and appearance of grounds, sites and entrance area.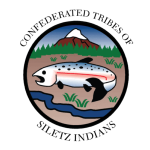 Confederated Tribes of Siletz Indians
Hee Hee Illahee RV Resort is 100% Native American owned by the Siletz Tribal Business Corporation a tribal corporation of the Confederated Tribes of Siletz Indians.
The origins of our Confederated Tribes of Siletz Indians is a complex subject in itself. The ancestors of the Confederated Tribes of Siletz spoke at least 10 different base languages. 11 if you include a few Sahaptin speaking Klickitat people who were living in the Willamette and Umpqua Valleys when the reservation was created — and so found themselves being removed to Siletz along with the original people of those valleys …
For more information please visit Confederated Tribes of Siletz Indians History page.